NAM works to change lives by sharing information about HIV and AIDS.
We believe that, wherever you are in the world, having independent, clear and accurate information is vital in the fight against HIV and AIDS. It enables individuals and communities affected by HIV to protect themselves, care for others, advocate for better services and challenge stigma and discrimination. We produce useful information that you can trust, and make sure it is there for anyone who needs it.
We change lives with knowledge.
We keep the world informed about HIV and AIDS.
We support individuals affected by HIV to understand their health and their options.
We share best practice and the latest evidence base globally.
We build capacity.
We debunk myths.
We respond to the changing epidemic.
Our mission statement hangs in our office and is a constant reminder of what we're about: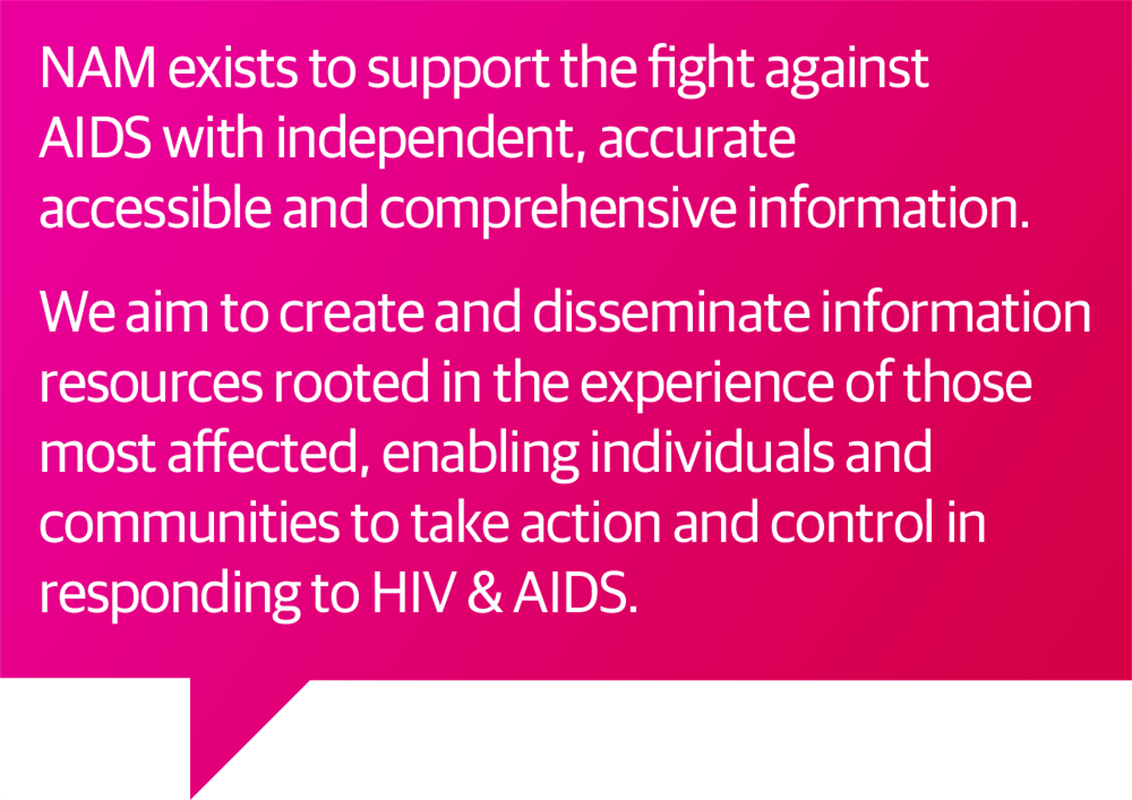 Our values
Useful
Reliable
Responsive
These core values are at the heart of NAM's work. They underpin everything we do and how and why we do it. We have built our reputation on these values and they are the reason we are such a trusted source of high-quality information on HIV.
Our goal is to support people living with HIV to live longer, healthier lives. At NAM we believe information enhances life and enables people to:
Take control of their lives and health care
Understand and adhere to their HIV treatment
Develop better dialogues with their healthcare staff
Live longer, healthier and better quality lives.
Information enables professionals to:
Deliver the best services for people with HIV
Offer the most effective support for people living with HIV.
To deliver our work effectively we have to be useful, reliable and responsive.   
We make sure every resource we produce reflects these values.  
These values are embedded into our individual and team approach to working at NAM. 
NAM has grown, evolved and developed over the years in response to the changing epidemic, and the changing needs of people living with and working in HIV. The one thing that hasn't changed is our values, these have remained the same since NAM was founded in 1987 and will continue to be at the heart of NAM's work now and in the future.
Our annual reports
See how NAM has developed over the last few years by taking a look through our annual trustees' reports and audited accounts. Our board of trustees are volunteers with a valuable mix of skills and experience. You can find out more about our current board of trustees here.
If you have any questions, or are interested in getting involved, please contact us by email at info@nam.org.uk or call us on 020 7837 6988.
2017 annual trustees' report and audited accounts (pdf)
2016 annual trustees' report and audited accounts (pdf)
2015 annual trustees' report and audited accounts (pdf)
2014 annual trustees' report and audited accounts (pdf)
2013 annual trustees' report and audited accounts (pdf)
2012 annual trustees' report and audited accounts (pdf)
2011 annual trustees' report and audited accounts (pdf)
2010 annual trustees' report and audited accounts (pdf)
Maintaining high standards
We are committed to ensuring the information we produce is:
Accurate
Accessible
Clearly communicated
Evidence-based
Independent
Up to date
Relevant
Rooted in the experiences of those most affected by HIV.
User feedback and review panels help NAM evaluate its publications. Our resources are better as a result of this, which means people can continue to use NAM and aidsmap.com as a trusted source of useful information about HIV and AIDS.
We keep a record of feedback we receive and incorporate any suggestions into the ongoing development of our resources. The collection of these ideas and suggestions helps us focus on specific things, but also gives us a good sense of the trends or themes emerging. When requests build up around a similar theme or topic it helps NAM identify gaps in information.
We work with medical review panels who review our resources to ensure our standards are being met.
People with HIV are able to contribute their expertise and share their experiences by being part of our peer review panel. Members of this panel provide us with comments on our patient information booklets and other resources for people with HIV.
Your feedback and input really does make a difference. If you would like to comment on any of NAM's resources please contact us.
inaccuracies or errors, ideally with a link to what has been spotted
positive and/or constructive feedback about what is effective, valuable and useful about specific publications
additional information that would be useful for revising work, e.g. comments on pitch, tone, language level
general comments or observations, e.g. emerging themes that might suggest a new/changed information need, how people use resources, context
requests for help or additional information
any other comments.
The Information Standard
In February 2011, NAM achieved certification with the Information Standard, a nationally recognised quality mark.
As a patient or service user, being able to trust the health and care information you access is really important. Having this trust will give you the confidence to make informed decisions about the right health and care needs for you and your family.
Supported by NHS England, The Information Standard is a certification programme developed to ensure that public-facing health and care information, produced by organisations, is created to a set of best practice principles, uses only recognised evidence sources and presents the information in a clear and balanced way.
The Information Standard quality mark, which can only be displayed by members, is a quick and easy way for the public to identify reliable and trustworthy information producers and sources of information.
At NAM we believe that, wherever you are in the world, having independent, clear and accurate information is vital in the fight against HIV and AIDS.
In achieving certification with the Standard, NAM has demonstrated that our information production systems enable us to produce information that is:
accurate and up to date
impartial and balanced
evidence-based
accessible
well-written.
All the information resources for patients and the public in the UK produced by NAM will now comply with the Standard's requirements, in line with our policy statement (see below).
If you would like to know more about NAM's information production processes (including how you can become involved), please contact us.
You can find out more about the Information Standard at www.england.nhs.uk/tis
NAM holds responsibility for the accuracy of the information they publish and neither the Scheme Operator nor the Scheme Owner shall have any responsibility whatsoever for costs, losses or direct or indirect damages or costs arising from inaccuracy of information or omissions in information published on the website on behalf of NAM.
Our Information Standard policy statement
1. NAM's mission and purpose
NAM is an award-winning, community-based HIV information provider. We are fully committed to using the Information Standard scheme to maintain and improve our information production system and the quality of our information.
2. Commitment to the Information Standard
The organisation has a clear mission statement describing how information provision relates to the charity's core business:
NAM exists to support the fight against AIDS with independent, accurate, accessible and comprehensive information on all aspects of HIV. We aim to create and disseminate information resources rooted in the experience of those most affected, enabling individuals and communities to take action and control in responding to HIV and AIDS.
NAM's staff and trustees:
believe that clear, accurate, balanced, evidence-based and user-tested health and care information enables people to make better decisions about their health and care choices.
are committed to improving the quality of our health and care information and recognise that by doing so, we can help to improve people's safety and wellbeing.
believe that the provision of high-quality information is a health and care service in its own right.
will ensure any public facing health and care information we produce conforms with The Information Standard programme, and that our information is appropriate, clear, accessible, accurate, balanced, evidence-based, referenced, user-tested and regularly reviewed.
will maintain the integrity of The Information Standard.
3. Management commitment
NAM's Board of trustees has endorsed NAM's commitment to the Information Standard and the principles it espouses, and has placed ultimate responsibility for NAM's information production system with the Executive Director.
Operational responsibility for the IPS, and for compliance with the Information Standard, is held by the Digital manager.
Matthew Hodson
Executive director
December 2016